Self help guide for Bipolar disorder, using effective CBT strategies. Make sense of the problem, then learn how to make positive changes
This page as a PDF

It's helpful to keep an eye on what your mood's doing, how it fluctuates, and what you and others notice about you when your mood starts to go low or high.  Living with Bipolar is a balancing act – the aim being to stay within the area around 0 on the scale below, when you're most healthy and balanced.

Click here to print this page  (PDF), and fill in the table on page 1 (illustrated below) – think about and write down what you start to feel like, the way you start to think, and what you do when you start to become high or low, and when you are very high or low. Ask close friends and family to help you – they will notice things about you which you might not be aware of. 





Make An Action Plan
Write down what you need to do at those times in order to make your mood more balanced.


Examples:
Talk To Someone
Take My Medication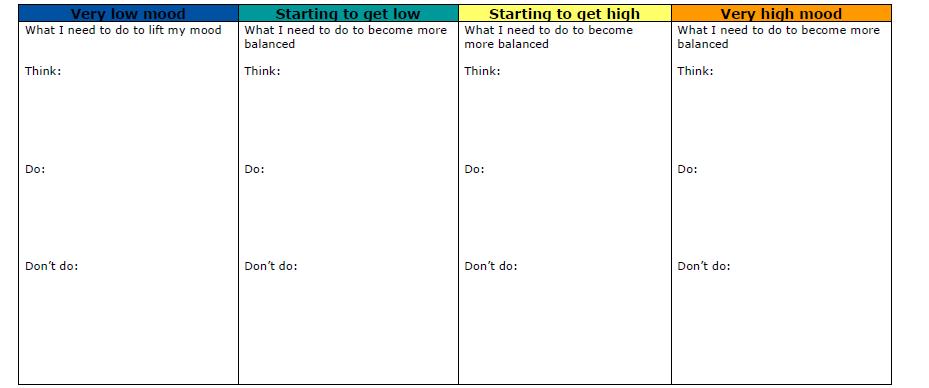 Daily Mood Monitoring
Complete a line each day, or more often if you (or someone else) notices that you're feeling more stressed or vulnerable, or notice any other changes.  When you (or someone else) notices your mood dropping or rising too much, start your action plan. 

Monitor your mood each day using the form on page 3.



This page  as PDF with forms
BOOKS